Method
For an innovative overall approach of the daily professional cleaning activities.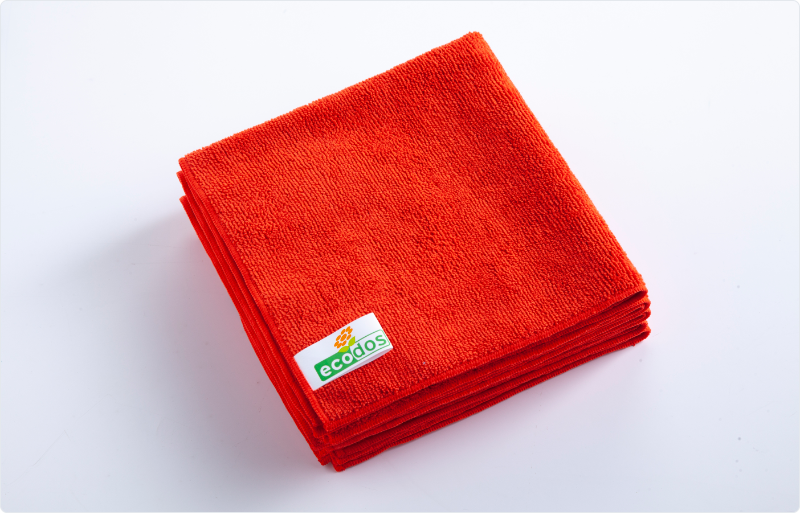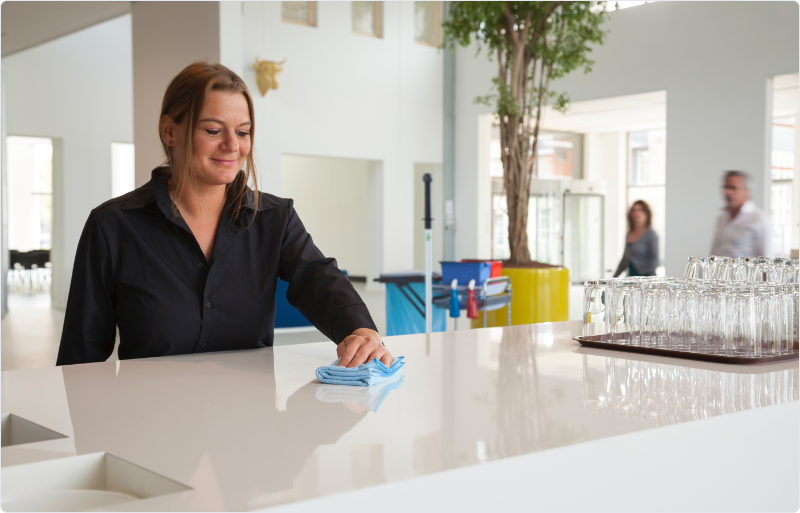 About Ecodos
Sustainable cleaning is about the product and the use of it. That is why we make highly concentrated, ecological cleaning agents and combine them with intelligent dosage equipment and high quality cleaning materials. Doing so, we help you to make your cleaning activities more efficient, hygienic, safe and environmentally friendly. That is our mission: to reduce the total environmental impact of our products and decrease the total costs of cleaning. As easy as 1, 2, 3…
Method
Top performances in quality, hygiene, safety, ergonomics and sustainability are essential when it comes to the daily professional cleaning. Ecodos Method is an innovative method, which can ensure a great result in all these areas. The cleaning agents and the microfibre technology strengthen each other greatly and in combination with the Ecodet Microfibre Laundry Detergent, the materials will last a long time.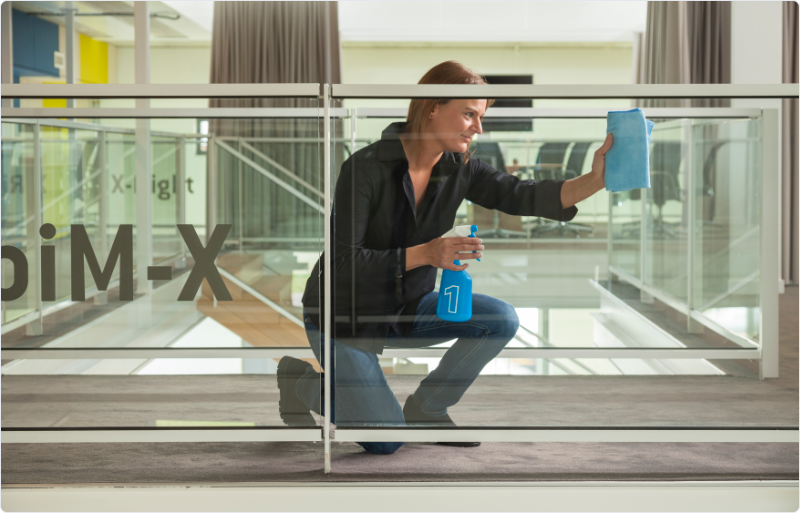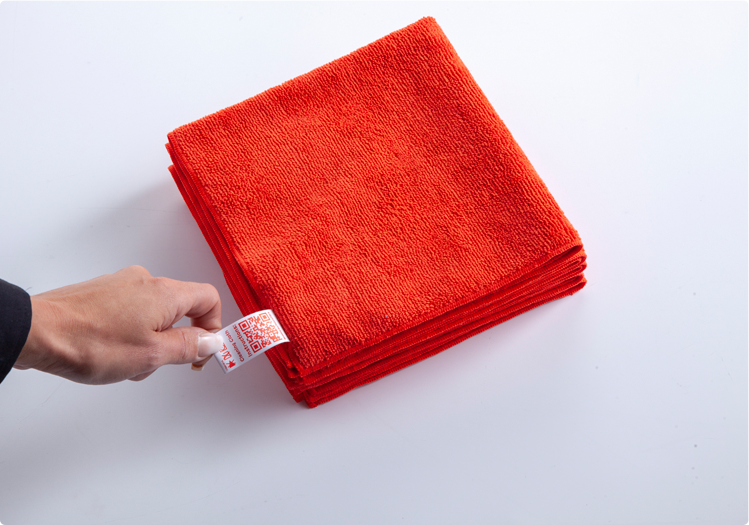 Microfibre technology
The microfibre cloths and flat mops from Ecodos have great advantages compared to the traditional cleaning methods. In combination with our cleaning agents, the microfibre technology provides a faster, cleaner and streak-free result. The microfibre materials are more ergonomically in use, due to their ability to clean with less friction. In addition to the Ecodos Microfibre Cloth, we also have the Ecodos Microfibre Glass Cloth for smooth and shiny surfaces, such as mirrors and display cabinets.
Cleaning agents and dosing systems
Ecodos combines highly concentrated, ecological cleaning agents with intelligent dosing equipment. The range of cleaning agents consists of products such as interior cleaners, washroom cleaners and floor cleaners. The products are up to 10 times more concentrated than general cleaning agents and are certified with the European Ecolabel, if possible. The dosing equipment is extremely user-friendly and gives an accurate dosage. On top of that, the data can be generated and can be used to steer on efficiency and ecological performances.
Ergonomically Sprenkler Handle
Our Ecodos Sprenkler Handle spreads the cleaning solution perfectly by simply pressing the button. This puts an end to carrying heavy buckets of water and ensures an ergonomically posture. The clear colour coding also prevents mistakes in cleaning method.
Simplicity in all its glory
Fill the reservoir with the matching bottle, which makes the Sprenkler Handle directly ready
to use. The optimal distribution of the cleaning solution ensures a perfect cleaning result and quick drying of the floors. This prevents dangerous situations, unnecessary amount of product being used and a faster handling for your staff members.
Advantages of the Ecodos Sprenkler Handle
Operate with minimal effort
Clear colour coding
Optimal distribution of the cleaning solution
Clear liquid level indicator
No more heavy buckets and wringing out
Lightweight and easy to move around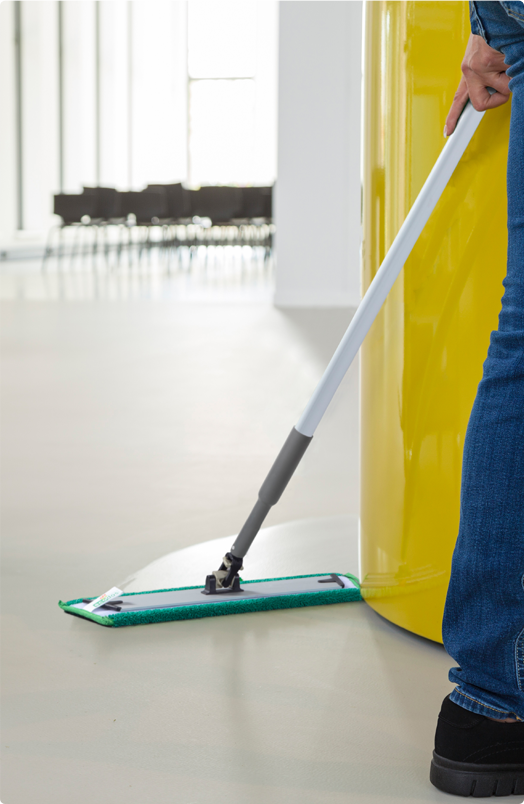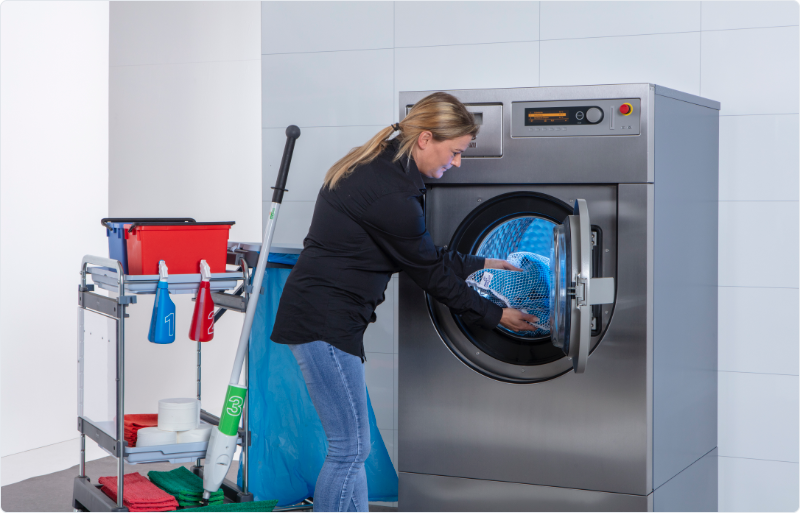 Laundry detergent
Microfibre cloths can last a long time, if they are cleaned accordingly. That is why we have developed Ecodet Microfibre Laundry Detergent. The highly concentrated ecological laundry detergent is specifically developed for the frequently washing of all types of microfibre cloths. It does not contain bleach, does not leave any residue and does not affect the fibres. That is how you can insure the maximum lifespan of you microfibre cloth.