The Ecodos Recycle Bottle 
This dosing bottle is made of 100% recycled plastic and is unique in its kind.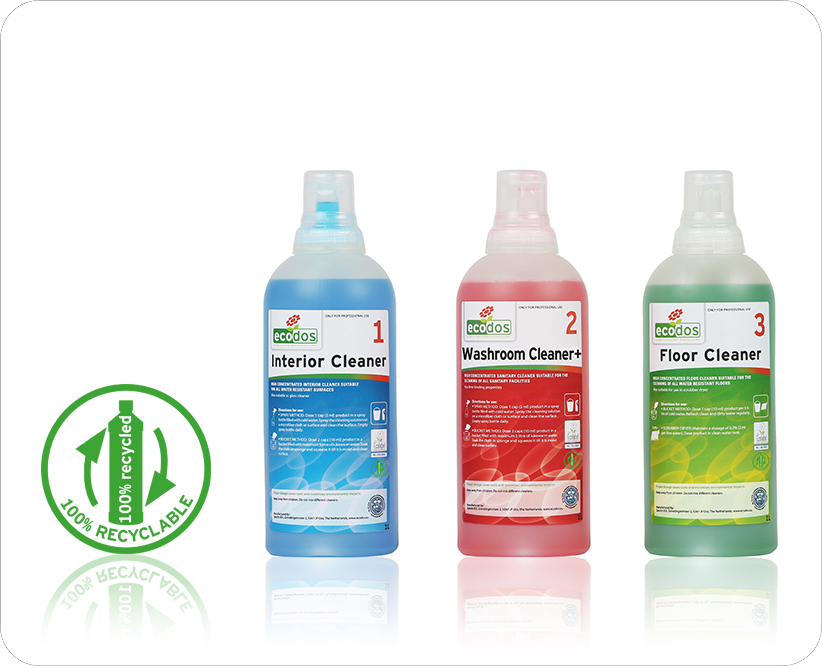 Recycle Bottles
 We always say yes when a possibility occurs to reuse something. It is our opinion that we should tackle all possible ways to make the production process more environmentally friendly. Reusing and recycling are therefore very important issues for us. Our 'Recycle Bottles' were born out of this conviction. These bottles are made from up to 100% recycled plastic and deliver a CO2 saving of roughly 75% compared to new plastic. In addition, they achieve a saving of 95% on the use of fossil raw materials *.
Innovation and Sustainability 
'What a combination'; An Ecodos dosing bottle made of 100% PCR plastic. But what exactly does PCR mean? PCR stands for 'Post Consumer Regrind' and is collected plastic that consists of consumer waste. Think of Plastic Hero for example. This plastic is first cleaned and then processed into granules. These plastic granules are the foundation for recycled plastic products from PET, HDPE and PP. The quality is up to the same standards as "virgin" material.